The Jesuit Prayer Ministry an affiliation with the Pope's Worldwide Prayer Network (PWPN)
Daily Gospel eMessage
DGeM written by Fr Philip Heng, S.J
Subscribe to Daily Gospel E-Messages
written by Fr Philip Heng, S.J
Pope Francis Prayer Intention for September
FOR PEOPLE LIVING ON THE MARGINS
We pray for those persons living on the margins of society, in inhumane life conditions; may they not be overlooked by institutions and never considered of lesser importance.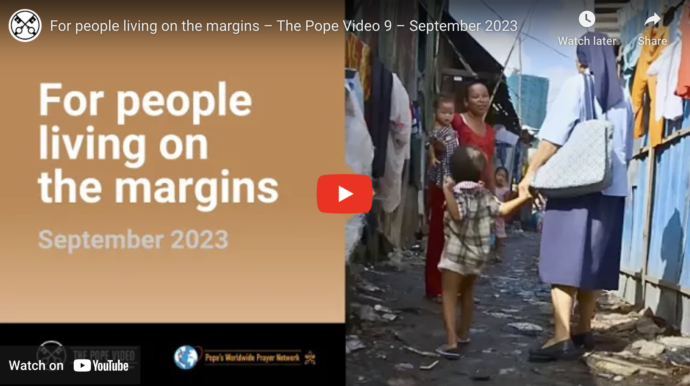 For people living on the margins – The Pope Video
Pope Francis always encourages us to place ourselves at the side of those who are marginalized and cast out, those who never make the headlines.
In the video containing the prayer intention for September, produced by the Pope's Worldwide Prayer Network, he asks us a question that should not leave us indifferent… [more]
________________________________________

Reflection for the month – For People Living on Margins
Each of our names are known to the Lord.  He sees us in our inmost being, smiles upon us with pure delight, and says, "I have come that they may have life and have it to the full." (Jn 10:10)
Yet, often, we live on the margins, … [more]

Pope calls for prayers for people of Morocco after earthquake.  [ more ]
Everyone is so busy, and yet inescapably hungering for meaning and fulfilment in their lives.
"DGEMS" has the main purpose of helping our subscribers discover more clearly and experience more deeply these innate human longings. The reflections on the Daily Gospels are deliberately succinct and spiritually challenging. They are also meant to inspire and illuminate our daily experiences through God's Word.
1st April 2022
22nd Anniversary of "DGEMS" Gospel ministry of evangelising God's Word of Salvation to all peoples.
We hope and pray that you have been enriched in your faith through this ministry.
May you continue to abide in Jesus' Words of Wisdom, "Make My Word your home and you will indeed by My disciple."
May you be filled with God's Peace, Hope and Love during these Covid-19 Pandemic days and may God's Holy Presence cover and protect you always.
Fr Philip Heng, S.J.
Get DGems on your mobile device.